OTN Systems
Stand: 7.2.C50
Type of Organisation :

Technology Supplier (Hardware)

Organisation Area of Focus :

Grid Infrastructures - Electricity
Grid Infrastructures - Gas
Digitalisation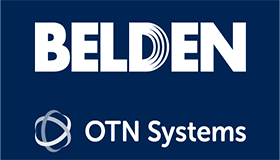 About OTN Systems
OTN Systems is a leading supplier of mission-critical telecommunication solutions to industrial customers for more than 30 years. The company has developed a unique next generation platform tailored for industrial applications. XTran is a flexible, state-of-the-art product allowing customers to go full packet. Its underlying MPLS-TP technology avoids the complexity of generic telecom solutions developed for service providers. XTran secures reliable operations in harsh environments, while its management system (TXCare) supports an intuitive and simple handling. Since its market introduction back in 2014, more than 100 customers worldwide have deployed XTran.
OTN Systems became part of the Belden group in January 2021.
For more information on our product and services offering, contact us, allowing you to fully appreciate how "we make MPLS for Operational Telecom easy."
---
About Belden
Belden Inc. delivers the infrastructure that makes the digital journey simpler, smarter and secure. We're moving beyond connectivity, from what we make to what we make possible through a performance-driven portfolio, forward-thinking expertise and purpose-built solutions. With a legacy of quality and reliability spanning 120-plus years, we have a strong foundation to continue building the future. We are headquartered in St. Louis and have manufacturing capabilities in North America, Europe, Asia, and Africa. For more information, visit us at www.belden.com.
What will we be doing / showcasing at the event: Meet our experts at booth 333 and discover the latest developments in Operational Telecommunication for power utilities. Learn about Belden Inc.'s cutting-edge networking solutions, ensuring the utmost security and reliability for substations and smart grids: - Industrial MPLS backbone (XTran) - Industrial Wired/Wireless Solutions - Secure Remote Access Solutions - Network Visibility and Monitoring
Pitch Video