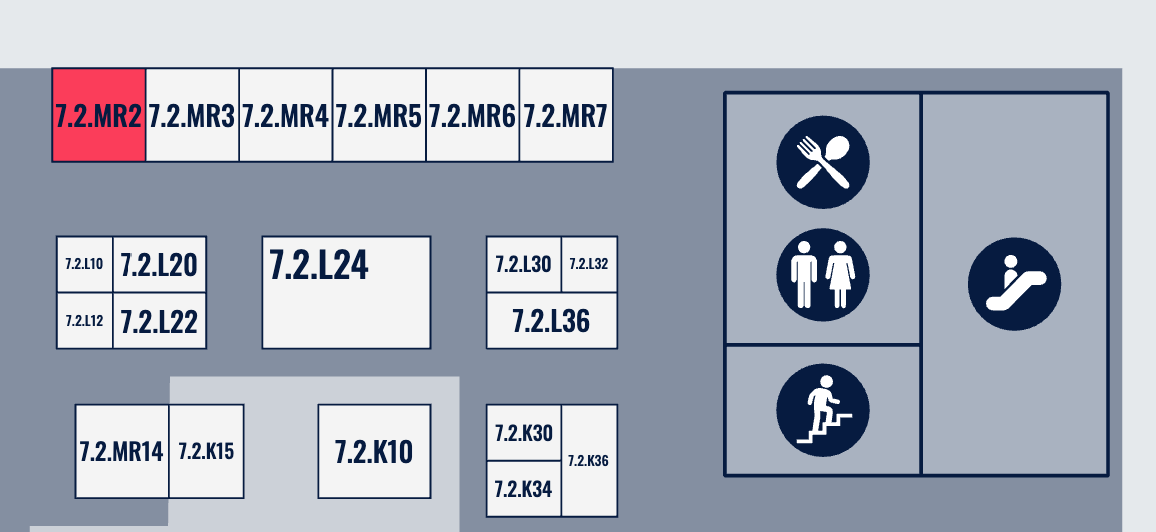 SHOW FLOOR MEETING ROOMS
You can find the Meeting Rooms on the show floor (halls 7.2 and 7.3) in the Floor Plan.
Simply search by the meeting room number you are looking for (for example: 7.2.MR2) in the Search box.
ATRIUM & MEZZANINE MEETING ROOMS
These are the additional meeting rooms used by our partners in the Atrium of halls 7.2, 7.3 and 7.4 and in the Mezzanine level.
How to access: go outside the Halls, to the Atrium (foyer area space), in order to access these meeting rooms; there is signage in the building for these meeting rooms.
Hall 7.2

721 - Schneider Electric
722 & 723 - STMicroelectronics
724 - Siemens AG

Hall 7.2 - Mezzanine level

725 - Siemens AG
726 - NXP Semiconductors
727 & 728 - Siemens AG

Hall 7.3

731 - Siemens AG (28/Nov) & Kamstrup (29/Nov)
732 - Panasonic Industry Europe GmbH
733 & 734 - frESCO (29/Nov)

Hall 7.3 - Mezzanine level

735 - ESMIG (27/Nov)
735 - ENEL GRIDS (28/Nov PM)
735 & 736 - Eurelectric (29/Nov AM)
735 & 736 - VGBE ENERGY (29/Nov PM & 30/Nov AM)
735 & 736 - Flow Battery (30/Nov PM)
736 - smartEn (28/Nov AM)
737 - Siemens Energy
738 - Accenture
View the floor plan with the meeting rooms