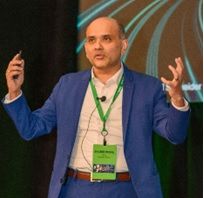 Shubhronil Roy
VP, Strategy, Marketing & Transformation, Digital Grids
,
Schneider Electric
France
Leader of a worldwide, multicultural organization, Shub has successfully transformed various businesses successfully.
He has 25+ years of Energy and Smart Grid field proven experience in industries such as Power and Grid, Oil and Gas, Data Centers, Healthcare, Food and Beverage, and more.

He earlier led the Power Services Line of Business (1B€) to double digit growth and then led the Consulting & Modernization League (1,8 B€) for Energy Management business, in charge of Innovation.

He has worked in several geographies including India, the Middle East and France, as well as assignments in Brazil, Singapore and Indonesia. In his last 14 years at Schneider Electric, Shub has opened new market opportunities and helped lead the drive to successful business transformation.

Before Schneider, Shub worked at ABB, Hughes, Alstom, and Areva (today GE). He continually broke new grounds that opened new business opportunities and created a very satisfied community of customers.

Shub holds an Engineering Degree in Electronics and Communications, a Management degree and Certification from INSEAD for Strategy.