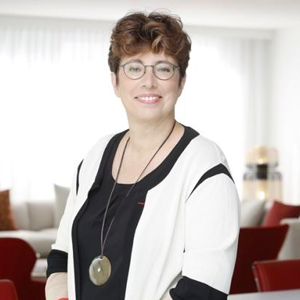 Marianne Laigneau
Since February 2020, Marianne Laigneau is CEO of Enedis, France's premier Electricity Distribution System Operator and a wholly-owned subsidiary of EDF Group, independently operated in accordance with European and French power market regulations. She also chairs the French Think Smartgrids association from June 2020 to June 2023.
Before taking on her current duties at Enedis, Marianne Laigneau was a member of the Supervisory Board of Enedis since 2010 and its Chair from 2018 and 2020. She was also a member of the EDF Group Executive Committee as of 2007, where she held several senior management positions as Corporate Secretary from June 2007 to 2009, Senior Executive Vice President in charge of Human Resources from 2010 to 2017 and in charge of the International Division from July 2017 to January 2020. She joined EDF Group in January 2005 as General Counsel.
Before joining EDF Group, Marianne Laigneau was Head of Institutional Affairs at Gaz de France, where she was subsequently appointed Deputy Head, Information and Public Affairs, in September 2004.
Between 1995 and 1997, she held various positions within the French government, including as Legal Adviser for the Ministry of Cooperation, member of electoral missions in Mozambique for the UN and in Gaza for the EU. Between 1997 and 2000, she worked for the Ministry of Foreign Affairs and was appointed First Counsellor at the French Embassy in Tunisia, where she oversaw communications, negotiations and political, community and legal affairs.
A graduate of the Ecole Normale Supérieure de Sèvres, the Ecole Nationale d'Administration and the Institut d'Etudes Politiques de Paris, she also holds an Aggregation in Classics and a Master's Degree in French Literature. After graduating from the Ecole Nationale d'Administration, Marianne Laigneau joined the Council of State, where she became a Counsellor in 1995.
She also sits on the Boards of Directors of Crédit Agricole S.A., where she chairs the Appointments and Governance Committee, and the Ecole Normale Supérieure. She chairs the Ecole Normale Supérieure Friends and Alumni Association.
Marianne Laigneau has been awarded national distinctions as Knight of the French Legion of Honour and Officer of the French National Order of Merit.
Enedis operates more than 1.4 million km of MV and LV power grids serving 37,5 million customers and their power suppliers. With 39,000 employees, an annual revenue of €15.2 billion and investments of €4.4 billion per year, Enedis is the most Major DSOs in Europe.
A key enabler of the energy transition in France, Enedis has engaged in a large-scale industrial deployment of smart grid solutions deploying the LinkyTM smart metering system program, with 35,5 million smart meters installed to date (92%). With more than 670,000 producers totalling 38,700 MW connected to power grids operated by Enedis, the company also facilitates the deployment of new uses such as individual or collective self-consumption with more than 270,000 sites, and electric mobility – with 100,000 charging points connected to power grids and accessible in the public domain.
Enedis is a member of EDSO4SG (European DSOs for Smart Grids), the G3-PLC Alliance, and the ThinkSmartGrids Association which promotes the French smart grids sector in France, Europe and around the world.