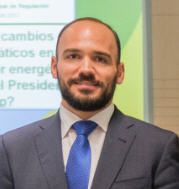 Juan Carlos Rucian
Head of European Regulation and Associations Relations, Renewables Business
,
Iberdrola
Spain
Industrial Engineer (Electricity) and senior energy markets & regulatory analyst with more than 16 years of experience working at Iberdrola.
He joined Iberdrola in 2007, working for nine years as Operational Trader & Analyst in the Iberian Short-term Markets & Planning department (Global Energy Management), being a Lead Operational Trading Analyst with ScottishPower in Glasgow for one and a half year, and then jumping to the Global Regulation department as Senior Energy Market Analyst during two years.
Since 2018 he is leading the European Regulation and Associations Relations team in the Renewables Business of Iberdrola, responsible for the relationships with the main sectorial European Renewable associations (WindEurope, SolarPower Europe, EASE and GWEC) and monitoring the European regulation in coordination with the Global Regulation team and the Brussels Office colleagues. Responsible for representing and defending the interests of Iberdrola Renovables in several European forums and renewable associations, actively contributing to Executive Committees, working groups, one-to-one meetings… And representing Iberdrola in different executive boards.