26 Jan 2021
Spotlight on France: Renewable energies and the challenge of grid integration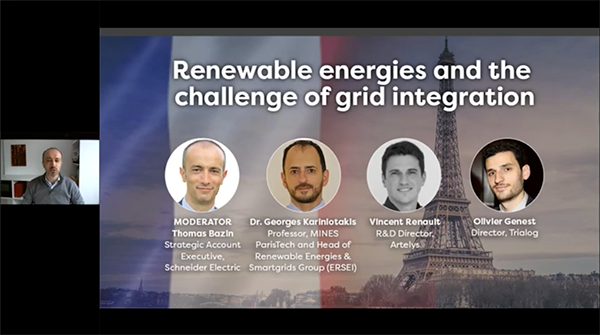 In this episode of the Spotlight on Country Series, France takes the stage. With two exciting panels, hosted by Smile and Think Smart Grids federates, you can expect to gain more insights into the French energy market.
Part 1: Smile gathers innovative projects around the energy transition topic. One of the main focus is collective self-consumption, which covers storage, renewable production, mobility, energy management, etc. It applies to microgrid such as islands, rural areas, but also residential and commercial areas. Involved Smile stakeholders used concrete examples to demonstrate the best-practices and knowhow of western France.
Part 2: Think Smartgrids federates that represent the French Smart Grid ecosystem, chaired by Marianne Laigneau, President of the Enedis Management Board, aims to develop the Smart Grids sector in France, but also to develop international collaborations on behalf of its members and represent France within the Global Smart Energy Federation.
New applications of AI for networks and energy transition is one of the study topics of Think Smartgrids' Scientific Council and Data & Digital Transformation working group. The speakers present concrete use cases that show how AI can improve the integration and distribution of Renewable Energies, as well as investment planning and the cost-efficiency of projects.
Moderators:
Valérie-Anne Lencznar, Managing Director, Think Smartgrids
Marine Gabory, smartgrids showroom manager in Nantes, Smile association (Part 1)
Thomas Bazin, Strategic Account Executive, Schneider Electric (Part 2)
Speakers:
Françoise Restif, Smile project coordinator, Bretagne Developpement Innovation
Henri Le Gallais, Chairman, ENAG
Nicolas Samon, Business Developer, Enerfox
Lynda Lamraoui, Chief Marketing Officer, ENGIE Home Performance
Georges Kariniotakis, Professor, MINES ParisTech and Head of Renewable Energies & Smartgrids Group (ERSEI)
Vincent Renault, R&D Director, Artelys
Olivier Genest, Director, Trialog
ON DEMAND VIDEO