19 May 2021
Lifecycle Management Series | Testing the big one - Insights into test sites of HL-class gas turbines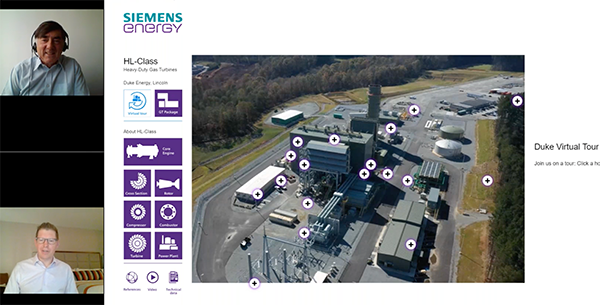 Duke Energy's Lincoln Combustion Turbine Station in North Carolina is a key testing facility for Siemens Energy's largest HL-class gas turbine. This episode included a virtual tour of the Duke Lincoln plant, to show how the engine tests are conducted. The SGT-9000HL gas turbine is designed to push plant performance to the next level and it was possible to see just how this is being achieved and how it is performing.
Also featured were insights into the construction of the Keadby 2 power plant in the UK - the largest 1x1 combined cycle power plant worldwide, which will feature the SGT-9000HL gas turbine.
The episode also focused on Siemens Energy's Clean Energy Center, where combustion tests on hydrogen, LNG, and other fuels are run. The hydrogen capability is a key prerequisite to drive decarbonisation and make the HL-class a future-proof technology.
The episode included a live Q&A session when attendees could do their own probing to find out more about this amazing technology and the advances in power, efficiency, emissions reductions, ramp rates.
ON DEMAND VIDEO