08 Dec 2020
Grids Series S2 Special: How will the grid evolve to support decarbonisation?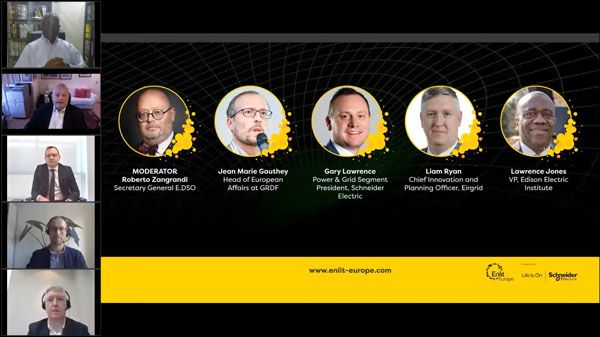 With local and two-way energy production growing, what role does the central power grid have and how sustainable is it?
Solar PV is set to increase the fastest of all renewable energy sources in 2020. Last year, one-fifth of all renewable capacity deployed globally consisted of individuals and small-to-medium-sized enterprises installing solar PV panels on their roofs or business sites.
Decentralised biomethane injection is soaring in Europe, from less than 1 TWh in 2011 to more than 25 TWh in 2020, while the potential is estimated to be 1000 TWh, around 20% of today's EU gas consumption, according to the IEA.
The European Hydrogen Strategy aims at skyrocketing green production growth in the next ten years by achieving a 40 GW production capacity by 2030.
How will the gas and power grids adapt to these dramatic changes? How to cope with 100% of RES?
This episode's discussion was moderated by the European Distribution System Operators (E.DSO), the interface between Europe's DSOs and the European institutions, promoting the development and large-scale testing of smart grid technologies in real-life situations, new market designs and regulation.
The discussion covered topics like:
Ownership - is a central grid sustainable?
DER, DRESSupergrid/interconnectors - what do we really need?
Changes in the gas distribution grid design to optimise biomethane injection
The digitalisation of gas and power grids - Internet of energy
Finance model - tariffs, subsidies, Investment to support
Sector coupling between gas and power grids and the search for resilience/flexibility
Moderator: Roberto Zangrandi, Secretary-General, E.DSO
Panellists:
Jean-Marie Gauthey, Head of European Affairs, GRDF
Gary Lawrence, Power & Grid Segment President, Schneider Electric
Liam Ryan, Chief Innovation and Planning Officer, Eirgrid
Lawrence Jones, VP, Edison Electric Institute
ON DEMAND VIDEO