17 Sep 2020
Clean Hydrogen Series S2 E1: Decarbonisation of Commercial & Public Transportation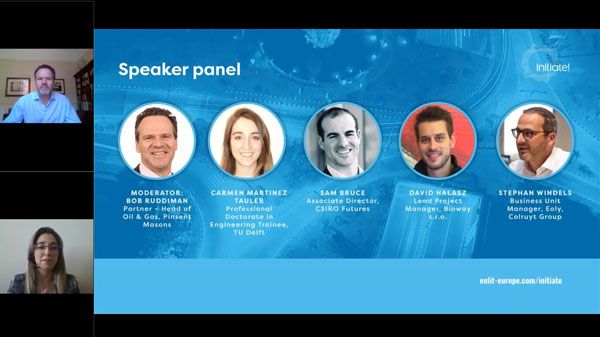 Transportation is responsible for over a quarter of the EU's greenhouse gas emissions, so it's vital that it transitions from using petrol and diesel towards low-carbon options as quickly as possible if Europe is to stand any chance of hitting its carbon reduction targets.
While plug-ins and hybrid plug-ins are dominating the private car sector at the moment, there are a host of other transportation sectors where the battery may not be the technology of choice, such as public buses, heavy-duty trucks, maritime and aviation.
In efforts to cut their emissions, these sectors are exploring one particularly promising alternative, and that is clean hydrogen.
In this episode, ground-breaking ideas, technologies and projects were presented, giving the audience a clear appreciation of hydrogen's true potential for decarbonising both commercial and public transport.
The audience will hear about:
A recent report from CSIRO that serves as a roadmap for clean hydrogen use in the civil aviation industry
A project exploring hydrogen-based fuel systems for the shipping sector from TU Delft's Professional Engineering Programme
The green hydrogen initiatives of the Colruyt Group's energy businesses (Eoly and DATS 24) and importantly if we're serious about creating a viable hydrogen-fuelled heavy-duty truck value chain in Europe it's essential to establish the right partnerships, production channels, fuelling infrastructure, etc.
The Black Horse Project, an ambitious initiative headed up by The Visegrád Group (Czech Republic, Hungary, Poland and Slovakia) that seeks to lower carbon emissions in the heavy duty transport sector and make hydrogen trucks commercially viable for transportation companies.
Chair: Bob Ruddiman, Partner | Head of Oil & Gas, Pinsent Masons
Speakers:
Sam Bruce, Associate Director, CSIRO Futures
Carmen Martinez Tauler, Professional Doctorate in Engineering Trainee, TU Delft
Stephan Windels, Business Unit Manager, Eoly, Colruyt Group
David Halasz, Lead Project Manager, Bioway s.r.o.
ON DEMAND VIDEO