02 Jul 2020
Clean Hydrogen Series S1 E1: Hydrogen's Role in the EU Climate-Neutral 2050 Goal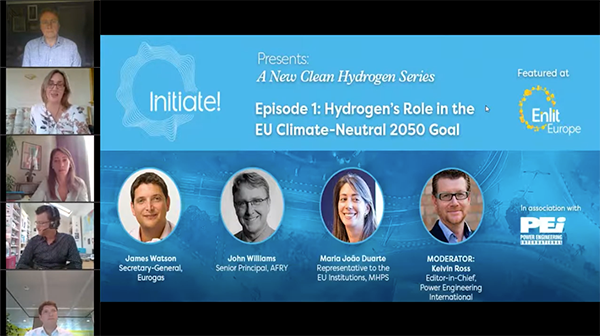 The EU's ambition to be an economy with net-zero carbon emissions within the next 30 years will involve a concerted and coordinated effort by all Member States and require the employment of a whole host of tools, mechanisms and enablers.
One of those "enablers" being taken extremely seriously is hydrogen, and not only by the industry itself, but politically too. Six countries in Europe are developing national hydrogen roadmaps, the EU and European Commission provide funding support to multiple demonstration projects, and the EU's hydrogen strategy is expected to be released soon.
Clearly, all the indications are that clean hydrogen is expected to have a fundamental, if not a central, role in achieving a successful energy transition in Europe.
In this first episode in the Clean Hydrogen Hub Series, titled "Hydrogen's Role in the EU Climate-Neutral 2050 Goal", our expert panel unpacked hydrogen within the context of the EU Climate-Neutral 2050 Goal.
What you'll learn:
How realistic the 2050 timeline in terms of establishing a significant hydrogen economy in Europe is
What sectors are showing the most promise for clean hydrogen adoption, not only in the shorter term but also in the long term
Which countries, whether in or outside of Europe, are embracing this clean hydrogen revolution, and what are the lessons that can be learnt
What the main constraints are and how to overcome them within realistic timeframes
What is required in terms of a regulatory framework and strategies to encourage the shift away from hydrogen derived from natural gas (grey) to clean hydrogen (blue, via steam methane reformation or green, renewable energy-based)
Why innovation and collaboration is of fundamental importance in realising clean hydrogen's genuine potential
Moderated by Kelvin Ross, Editor-in-Chief, Power Engineering International, our guest panellists are:
James Watson, Secretary-General, EUROGAS
John Williams, Senior Principal, AFRY
Maria João Duarte, Representative to the EU Institutions, MHPS Europe
ON DEMAND VIDEO