03 Dec 2020
Dutch Innovation: Flattening the Climate Curve, Accelerating the Energy Transition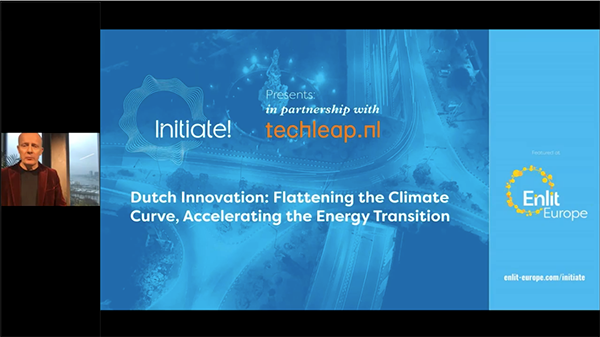 The Netherlands has a history of innovation and pushing the boundaries that stretch back centuries. In the 17th century, not only did it establish the first stock market, it made the first-ever telescope and the first moveable submarine prototype – all things we now take for granted but were game-changing at the time.
In the intervening centuries, that entrepreneurial spirit has been nurtured and encouraged and is now being applied to tackling one of the greatest challenges mankind faces, namely the climate crisis and accelerating the energy transition.
In this unique, interactive session, created in partnership with Techleap.nl, home-grown scale-ups showcased their innovative and pioneering solutions, followed by a Q&A with a panel of expert representatives from the utility and high-energy C&I consumer sectors.
The session culminated in a panel discussion that took a holistic look at the global landscape for innovation within the energy transition, why it needs to be supported and how we can accelerate innovation to commercialisation.
Moderator:
Freerk Bisschop, Managing Partner Energy, Rockstart
Scale-up Presenters:
Maikel Bouricius, Marketing Manager, Asperitas
Alexander Suma, CEO & Founder, IBIS Power
Anniek Schouten, COO & Co-founder, Overstory
Pieter Hack, Founder & Chairman of the Board, REDStack
Dirk-Jan Middelkoop, Head of Sales, Sympower
Panellists:
Fernando Sandoval, Manager, Enel Innovation Hub Europe
Maria Freitag, Senior Expert in Corporate Development & Strategy, EWV Energie- Und Wasser-Versorgung GmbH
Jason Simpson, Head of Energy, Liberty Global
Mark Schütz, Global Senior Digital Strategy Director, Microsoft
Steven Edwards, Head of European PV and PPA Supply, SIMEC
Jermaine Saaltink, Principal, Shell Ventures
*Techleap.nl is a non-profit organisation funded by the Dutch government. It launched in July 2019 and has a 4-year mandate to accelerate the tech ecosystem in the Netherlands. Through its programmes and initiatives, it seeks to break down barriers and improve access, especially for scale-ups to talent, capital, networks, knowledge and markets.
ON DEMAND VIDEO