15 Jun 2021
Electricity and gas markets combined will achieve the NRRP goals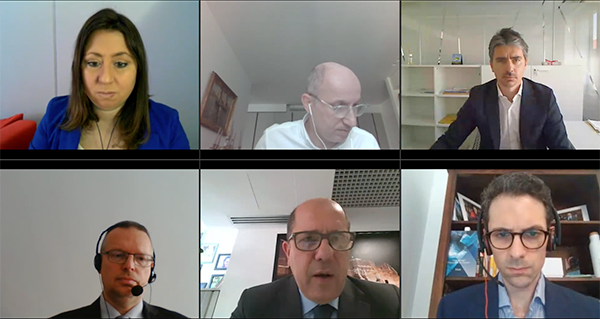 The electricity market and the gas market must be integrated in order to contribute to achieving the goals laid out in the National Recovery and Resilience Plan (NRRP). This was a key finding of the "Spotlight on Italy: The implementation of energy policy in the Italian electricity and gas market" episode, held on the 26th of May, organised by Enlit Europe and Smart Energy International, and with Gruppo Italia Energia (with its magazines Canale Energia, Ch4 and Quotidiano Energia) as the country media partner for Italy, the location of the physical 2021 edition of Enlit Europe to be held in November.
In order to create a synergy between the gas and electricity market in Italy, we must overcome important obstacles such as speed of permit-granting procedures and long-term market design clarity with permanent rules and long-term contracts, perhaps supported by PPAs and storage.
"The Italian PNRR scenario predicts that we will need to increase energy production with renewables compared to what we can do with energy efficiency in the coming 10 or 20 years," explains Massimo Beccarello, Energy and Environment Director of Confindustria, who spoke during the episode, "because in this sector I see more room for growth than for energy efficiency."
However, in the development of renewables, "we encounter a great deal of issues with permit granting for the plants and I believe this is the greatest obstacle for our country to overcome the challenge of the sector," underlines Beccarello, who adds that "it is necessary to review the system of national networks as well as the energy market. We also need to change the trading platform." It is a "common problem in Europe to have a long-term power price for investors. Finally, we must recognise another key player in the energy market, which is gas". For this reason, it becomes crucial to think about how to integrate gas into the market and its role in energy generation.
"We must more than double our current renewable energy production to meet the target," points out Alessio Cipullo, Head of Technical Affairs at Elettricità Futura. "We have also estimated that 50% of the Green Deal effects will impact the generation sector, 30% networks and grids. However, 20% will be dedicated to energy storage, that is a key enabler of the transition." This scenario is very challenging if we take into account the current data and the described issues. To streamline the processes within the sector, it would also be necessary to increase the digitisation of procedures. In terms of renewable production, Cipullo adds:"In this respect hydrogen will play an important role, although we must keep in mind the timeline of this fuel that, in my opinion, will be used above all in the electricity sector."
Returning to the issue of the model, "we need to prepare a market model to introduce PPAs in the segment of renewables," emphasizes Alberto Pinori, President of ANIE Rinnovabili (Italian Renewable Energy Industry Association). It is an ecological and industrial transition that creates jobs, as well as ensures habits in energy consumption to which our society has become accustomed, explains Pinori.
"Gas infrastructure will play a key role in decarbonisation," continues Ruggero Bimbatti, Head of Asset Development at Italgas. "Moreover, both for the development of green gas and hydrogen or biomethane, this infrastructure is able to optimise the yield of renewables when combined with storage systems."
"Italy suffers from the pancake effect, that is the stratification of costs included in the price of energy. One issue is the cost of logistics," points out Giuseppe Viscardi, Head of Gas Regulatory Affairs, LNG & Financial Regulation at ENI, representative of Anigas. "Since 2020 ARERA (Autorità di Regolazione per Energia, Reti e Ambiente - Regulatory Authority for Energy, Networks and Environment), has revised this cost system, managing to contain it. This goes hand in hand with two other effects: another reform of the regulatory system with the LNG entry and the commencement of gas flows via TAP."
"Gas can support the electricity sector instead of coal," underlines Alfredo Camponeschi, Head of Energy and Commodity for Italy at Enel, and "that is why we are studying how to convert our coal-fired plants to gas-fired ones." Camponeschi underlines that those important choices require regulatory clarity and market stability, in line with the demands of various industry sectors represented during the event.
"We are not doing enough to meet the European targets," explains Fabio Bulgarelli of ANIE Reti (Italian Association of Utility Network Companies). "I am also referring to electrification applications in housing and mobility. To do this, it is necessary to have a clear understanding of the ultimate objective which is the year 2050. Therefore a radical change in the network system is needed. We are approaching these deadlines slowly. Hence, a need for a defined roadmap with clear and unambiguous references and deadlines."