10 May 2021
We need to offer the customer flexibility
There are multiple reports undertaken by a variety of experts and expert groups that have worked on the implementation of interfaces for consumers in Europe to get data directly from a smart meter, along with the communication standards that are used for this interface.
While much work has been done in developing standards, and in order to reach interoperability, you have to do a little bit more than just select a standard.
During the Enlit Europe webinar Interoperability – The cooperative approach, Davey Michiels, project manager for digital metering at Fluvius, shared some of the experiences from the company's current upgrade of existing metering points.
Fluvius is a multi-utility in the northern part of Belgium which manages 7.3 million connections across a variety of services. For example, the utility has 3.5 million power connections, 3 million natural gas connections and other points to services such as internet connectivity and public lighting. It is also planning on adding water distribution to the services it offers.
In 2019, the company started its smart meter rollout and has identified 6.1 million meters which need to be replaced by 2029.
---
This article was originally published on The Guide - Season 2 | 2021
---
Michiels says: "It's important to know that to enable the energy transition, and based on legislation, we have a fast start. Some 80% of the rollout, or 4.8 million meters, need to be rolled out by 2024. This really is one of the drivers to work towards interoperability."
Using ID specification smart electricity meters and OMS specification-based smart gas meters, the team at Fluvius felt it was important to choose available standards and specifications.
"We don't need to reinvent the wheel ourselves," Michiels shares. Part of the plan to achieve the goals of the rollout "will come from using reliable, easy to use products. The rollout needs to be efficient operationally for technicians and efficient across the supply chain. This will ensure the handling is as easy as possible for technicians – interchanging devices must not be limited by technical constraints."
Michiels highlights that interoperability is a way for Fluvius to achieve its business goals, saying that interoperability in and of itself is not the goal.
"Customers need different types of connections which means different types of meters... single phase, poly phase, with gas connections, without gas connections. There is a flexibility needed in what we need to offer to the customer.
"Also, over time, things might change – a customer might purchase an electric vehicle which might increase his electricity consumption and that might influence the type of connection, so we really need to have flexibility in the type of meters which we offer."
The Fluvius technicians should be able to handle a multitude of different types of meter models as the company has taken a multivendor approach to reaching its goals. This means that interoperability is important.
And last but not least, smart meters are being read to use the data for billing and grid management. All this data, whether it's coming from different types of meters, needs to be transparent and needs to be flexible to be used in back-end systems and market systems. This means that the technology should really be the enabler to realise those business demands.
In particular, the Fluvius team has focussed on the interoperability and interaction between electricity smart electricity meters and smart gas meters. That is the key element of the smart meter rollout. The electricity meter serves as the communication hub towards the head-end system and linking using the wireless protocol linking the gas meters.
The team has selected its chosen standard IDIS in the past and OMS. "We started with IDIS package two. However, Fluvius has decided to continue with future meter rollouts to use IDIS package 3 due to its increase functionality and web centres. On the OMS level, we have decided to utilise version 4.2.1
"We learned some hard lessons," Michiels says. "Interoperability really requires thorough testing. Interoperability is not limited to the lower physical layers and having certain things defined.
"The importance is to have use cases defined on higher level application levels and even above, because the crucial thing is the interoperability between the three building blocks namely a central AMI head-end system, then the electricity meters (IDIS or DLMS based), and then going through the gas MBUS meter (see Figure 2).
"It's really key that you don't limit your testing or your setup to technical messages, but it really starts off with a list of use cases because it's those use cases that determine a sequence of activities which need to be carried out in a correct order. And it's the sequence which needs to be assured."
This testing on the use case level is the key thing to verify because it's what makes the difference, and this will enable a DSO to run its business end-to-end.
Michiels explains: "Then you are able to collect data from electricity meters which in their turn are linked to gas meters and that for these use cases, everything is defined. Don't limit testing or verification to certain messages on the physical layers but really go into the more complex use cases – and indeed they are complex. It's not an easy task. There is a lot of work that is still ongoing and we have been collaborating for a number of years to read both IDIS and OMS.
He adds that "for this rollout there are two main extensions we are working on. We will add smart water meters in collaboration with the local Flemish water distribution companies.
"We are embarking on the first pilot tests, but we will work together in order to realise the rollout synergies and when you need to go to customers to instal meters you have quite some synergies which can be realised there.
"But specifically for the water meter being another type of an MBUS water meter, we can optimise our communication network. There is a choice to keep on using the smart electricity meter as a communication hub. But by continuing to use the smart water meter along with smart electricity and smart gas meters, it means that the the end customer really gets a total overview and good customer insight into his total energy consumption including water.
"And that's really an important evolution."
He concludes: "The future is tomorrow. In fact, I'd even say 'the future is today'. We need to really start preparing the future of our connection grids today."
Watch the Enlit Europe episode 'Interoperability: The co-operative approach' here: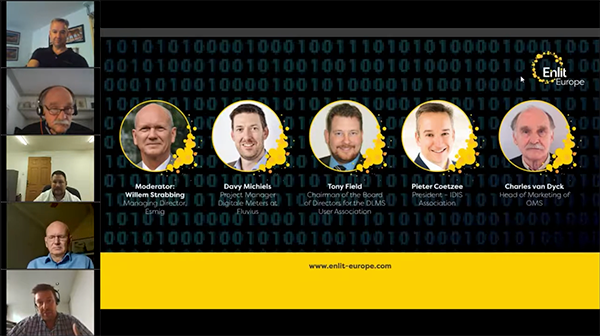 ---
This article was originally published on The Guide - Season 2 | 2021
---
Share on Social Media / via Email