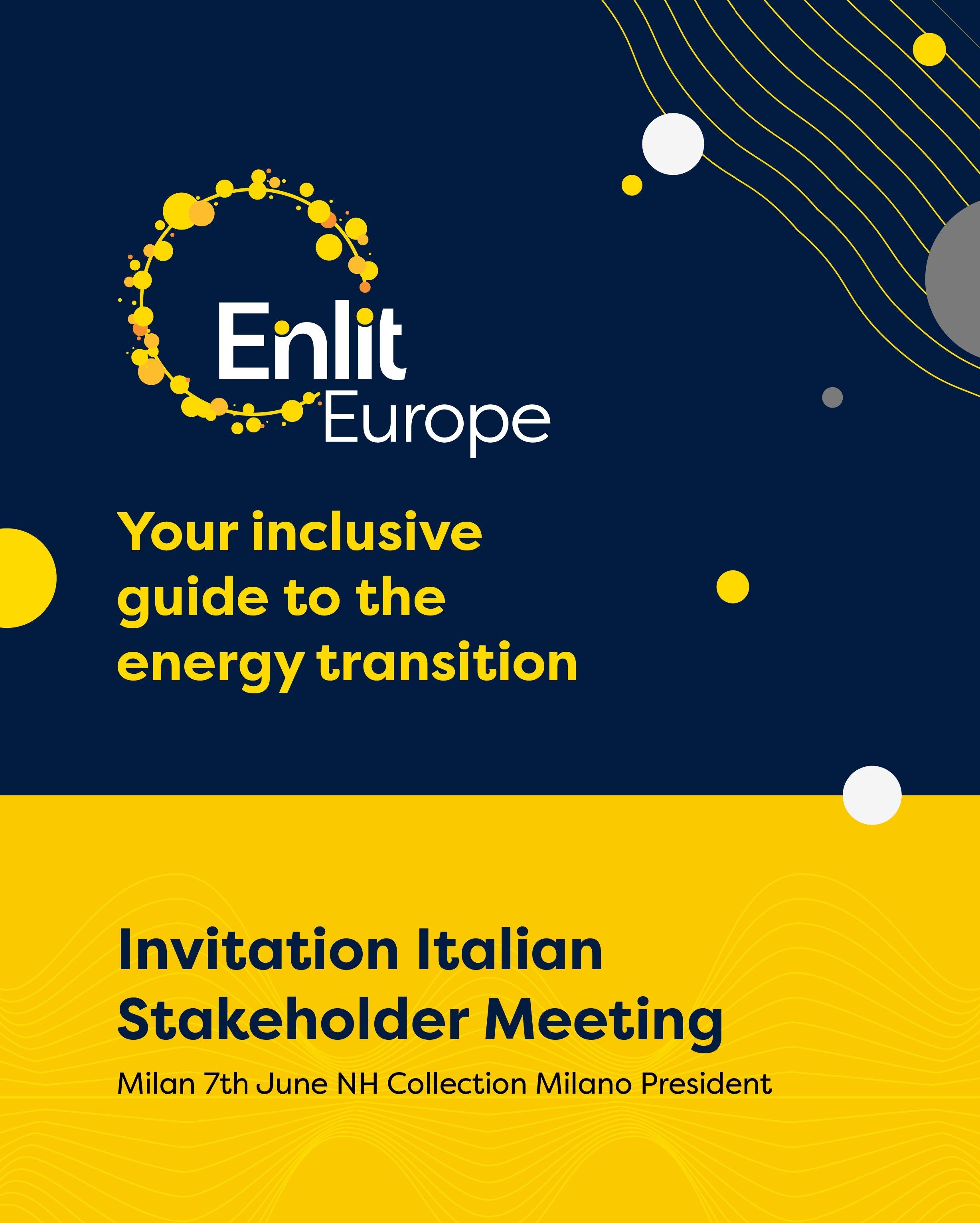 The very first edition of Enlit Europe was staged in Milan in 2021, giving Italy a unique first opportunity to showcase its technical excellence and strategic vision to a global audience of energy professionals. In the midst of the pandemic, Italy proved to be a resilient and strong host country for Enlit Europe, with domestic partners and businesses taking an active role in the organization and success of the new initiative.
Since then, Italian utilities, business and associations have become integral to Enlit Europe with an increasing presence in Frankfurt last year. As a leader in the energy transition we want to encourage an ever greater role for Italy at Enlit Europe.
To discuss how we can support the ambitions of Italy's energy sector, we would like to invite a representative from your organization to our Enlit Italian Stakeholder meeting.
Date: 7th June | 9:30hrs till 12:30hrs (lunch will be available thereafter)
Location: NH Collection Milano President, Largo Augusto, 10, 20122 Milano
Remote: The online meeting will be from 10:00hrs to 12:30hrs (including a break from 10:30 hrs to 11:00hrs)
See Full Agenda Register your Attendance
We hope that you are available to join the meeting, working with us to create a valuable high-quality industry platform. Should you be unable to attend then it would be possible to follow the meeting remotely.
We very much look forward to receiving your response to this invitation by 5th of June.


Attendance Information
We have Invited a range of Industry Association, companies and press. Level expected are Senior Manager / Director / Heads of Departments. Please be informed that due to limited space we are only able to accommodate a total of 40 people.
The aim of this meeting is to present the opportunities and features concerning the upcoming editions of Enlit Europe including Paris (2023) and Milan (2024) and identify how Italy can make use of this platform to do business, create partnerships and inspire the European energy industry with its innovation.
Your input and knowledge will in fact be a valuable addition. The goal is to dive into Italy's Energy developments and its vision to become more sustainable and to support in all its developments going forward. We want to hear first-hand what your needs and requirements are for your regions and members and how this can be translated and featured at Enlit.
Agenda - 7 June 2023
The agenda for the stakeholder meeting contains the following:
09:30
Arrival & Welcome coffee
10:00
Welcome by Paddy Young, Enlit Director
(Online meeting start)
10:10

Enlit. The story behind the brand, vision and goals going forward
10:30
Enlit plans on programme, format and exhibition
11:00
Coffee Break (Online meeting break)
11:30

Meet our media brands: how to maximize our 365-day opportunities
11:45

Host Country Programme: What does it involve? Profiling Italy at Enlit
12:00

Group discussion – questions and conclusions
(Online meeting will conclude by 12:30)

12:30


Lunch (for those present at NH Collection Milano President)
14:00 -16:30

One-on-one discussions with the team, for anyone who wants to stay on or join us only in the afternoon
For any questions please find the contact details at the bottom of the page. Please note there is a maximum capacity of 40 people in the room. Kindly inform us if you are not joining for lunch.
Register your Attendance
Please complete the below form to confirm your attendance in person or remotely. Thanks in advance and looking forward to welcoming you in Milan!
Please Note: If you at any time need to amend how you will be attending this meeting, please do notify us via the information provided in your confirmation email after completion of this form.
---
Contact details for further information:
Rose Cavanagh
Account Director - Country Manager Italy
Enlit Europe
E: Rose.Cavanagh@clarionevents.com