Initiate connects new tech ventures and next-gen talent with industry incumbents. This year, the Initiate programme brings two new elements.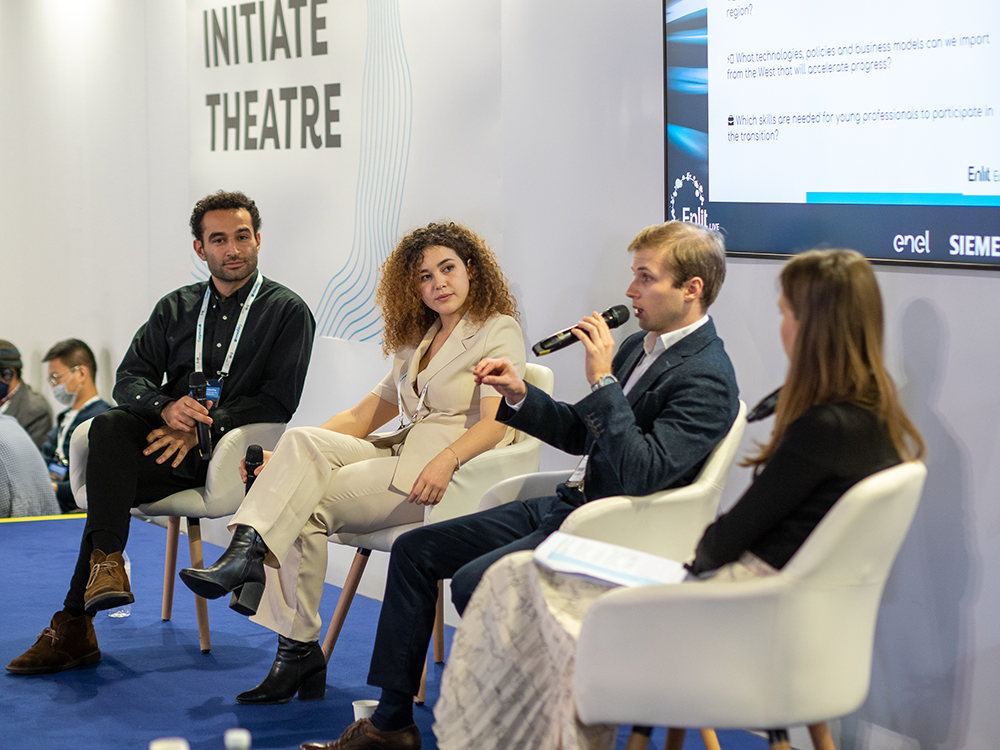 The Innovators & Disruptors programme
Dedicated to the energy innovation ecosystem, the programme includes groundbreaking presentations, panel discussions, pitching sessions and success stories covering the latest innovations and exploring the existing opportunities in this space for all stakeholders.
Key sessions include:
- Investigating the growing influence of ESG
- The essential role of deeptech, as well as early-stage start-ups in the energy transition|
- The dos and don'ts of upscaling and internationalising your business
- Exciting Pitching Sessions under the auspices of the 4 Ds (decarbonisation, digitalisation, decentralisation and democratisation)
Sign up to receive the full programme as soon as we announce it
what do we want people to do? fill out a form?
What does the future of the energy workforce look like?
This programme recognises the enormous importance of students, postgraduates and young people to the energy transition and the future success of the industry. Young talents often bring new and exciting perspectives, as well as the fresh blood that is badly needed.
Through a series of educational workshops, challenges, presentations and panel discussions, the Future Energy Leaders programme offers the opportunity to the next-gen talent to learn from and connect with industry practitioners, and the industry to engage directly with its all-important future workforce, including the industry leaders of the future.
Sign up to receive the full programme as soon as we announce it
what do we want people to do? fill out a form?
Join the Innovators Zone
For start-ups, scale-ups and other new ventures, there will be a dedicated area where they'll have their own space to hold one-to-one meetings with prospective partners and investors, and present their innovative energy transition-related solutions.
It was great to hear from many different experts from industry. As a young talent, it was a very much eye-opening experience and also validation of some of my thoughts.
In this event, I have learned a lot of information about European companies in the renewable energy field that I didn't know. And because of the student project competition, I have also made many new friends in this area.
As a student, it was highly educative. As an engineer, it was a good chance to become familiar with state of the art technology.
It was really mind-blowing. A huge gathering of a variety of companies and professionals with solutions that can change the world. It sure sparked a fire of inspiration in me.
Follow the latest news on Initiate and more on Enlit.World, including interviews with international experts, featured articles, shared case studies and more.
Subscribe to The Guide newsletter for the latest updates and visit our website frequently for the more recent stories.
Subscribe to The Guide newsletter
---
ANYTHING ELSE WE NEED FROM THE BELOW CONTENT?
---
What is Initiate?
Initiate is a global movement that spotlights next-gen talent, empowers start-ups, scale-ups and other entrepreneurs, and creates impactful programmes to move the industry forward.
Founded in 2014, Initiate brings together innovators and disruptors, students, young professionals, corporate executives, public sector innovators and investors from around the world, with the aim of supporting the all-important innovation ecosystem and celebrating champions of entrepreneurship.
Read on to find out how you can get involved with Initiate at Enlit Europe.
Stronger Together
Initiate offers an unrivalled platform for cutting-edge energy tech start-ups and young bright minds, providing opportunities to collaborate with established industry players and investors in the sector.
By bringing them together at Initiate, Enlit Europe aims to encourage industry incumbents to be inspired by new ideas and new thinking, while enabling the next generation of entrepreneurs to benefit from gaining invaluable market knowledge from Enlit Europe's speakers, partners and exhibitors.
See below for more information on Initiate at Enlit Europe 2022.
Initiate around the Globe
You can find Initiate around the globe, attending and hosting events.
Each meet-up is designed to target the challenges relevant to a specific region or continent with the common goal of moving towards a decarbonised future through next-gen tech, next-gen talent and a next-gen mindset.