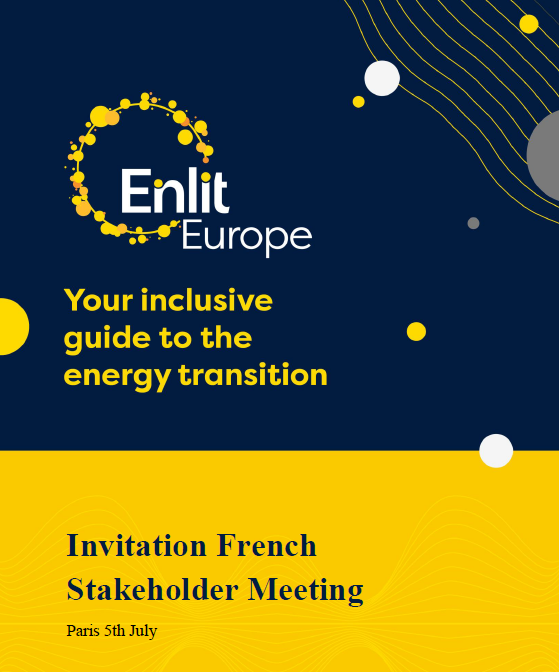 Energy is evolving. So are we. Since 2019, European Utility Week and POWERGEN Europe have been unified under a new brand: Enlit, the inclusive guide to the energy transition.
The announcement of Enlit was staged in Paris in 2019, giving France a unique opportunity to be front and centre at the start of our Enlit journey. In the midst of the Pandemic, France has proven to be a resilient and strong partner of our mission, with many partners and businesses taking an active role.

From there onwards, we have seen the role of France growing and continuing with great representation at last year's event in Frankfurt, Germany. We want to keep this going!

Further to our previous contact I would like to invite a representative from your organization to participate as a member of our Enlit French Stakeholder Meeting.
Date: 5th July | 10:00hrs till 12:00hrs.
Location: Online (via Teams link)

See Full Agenda Get the Presentations

We very much look forward to receiving your response to this invitation by 30th June. Thanks in advance and looking forward to welcome you in Paris!
Attendance Information
We have Invited a range of Industry Associations, companies and press. Level expected are Senior Manager / Director / Heads of Departments.

The aim of this meeting is to present the opportunities and features concerning the upcoming editions of Enlit Europe including Paris (2023) and identify how we can make our host country France be optimally represented at the event.

Your input and knowledge will in fact be a valuable addition. The goal is to dive into France's Energy developments and its vision to become more sustainable and to support in all its developments going forward. We want to hear first-hand what your needs and requirements are for your regions and members and how this can be translated and featured at Enlit.
We hope that you are available to join the meeting, working with us to create a valuable high-quality industry platform.
Agenda - 5 July 2023
The agenda for the stakeholder meeting contains the following:
10:00
Welcome by Paddy Young, Enlit Director
(Online meeting start)
10:10

Enlit. The story behind the brand, vision and goals going forward
10:30
Enlit plans on programme, format and exhibition by Florence Coullet, Enlit Content Director
11:00
Coffee Break (Online meeting break)
11:15

Media and Digital amongst tools to amplify your presence
11:30

French Pavilion offer by Clarisse Roussel (Business France)
11:45

International delegations and driving traffic by Basile Fraudeau (Think Smart Grids)
12:00

Host Country Programme: What does it involve? Profiling France at Enlit, Questions and conclusions