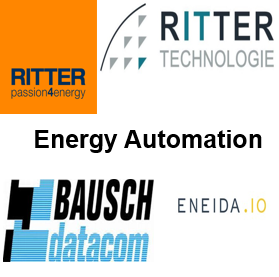 We connect the real and the virtual world, through digitalisation, automation and smart grid solutions. RITTER Starkstromtechnik ensure that complex structures are adapted, expanded and used. With our partners, Ritter Technologie, Bausch and Eneida we can network state-of-the-art technology, automate (S.A.), and digitalise your system and design networks intelligently. We combine the real world with the virtual world. Connecting to the IoT, cloud-based approaches, storage and management of data.
What will we be doing in Frankfurt?
Data Communication, Distribution Automation Box (Dali Box) DeMas Data Management Systems, back office, Station Automation with Protection Relays, Secondair System Integrator (Siemens, ABB, Sprecher, Eberle) Communication Protocols, IEC 61850, 101, 103, Modbus, GPRS/LTE, Lora, TLS/Crypto anchor, VPN IPsec, MQTT, Open source, SD 12 Protocols etc. Intelligent Low Voltage measurement Syst. with rogowski coils, RTU, Substation Solutions, Own Engineers and PAC engineers, Demonstration of all Systems.
Read the latest Press Releases from our Exhibitors & Partners.
Your search returned no results