Embion BV
Stand: 7.3.F60-10
Type of Organisation :

Technology Supplier (Hardware)

Organisation Area of Focus :

Generation
Energy Efficiency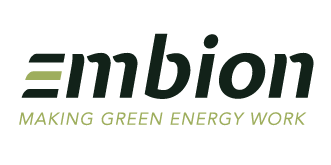 The SolarGatewaySE makes it possible to connect all energy consumers in one system in a Smart Energy Management System (SEMS) in order to make optimal use of the generated (solar) energy. Thanks to the modular construction, it is possible to easily expand in order to be ready for the future. The SolarGatewaySE can connect with all consumers via Modbus TCP/IP and Modbus RTU.
The SolarGatewaySE is the smartest Energy Management System on the market. The SolarGatewaySE is completely brand-independent and has the ability to control 265 different devices in one EMS. This control is completely automatic based on available power and set preferences. External factors such as energy trading are also used to optimize the system and save money.
What will we be doing / showcasing at the event: We are showing our SolarGatewaySE - Smart Energy Management System. Key-Features are, Brand Independent connection of devices, Easy installing and flexible usage.