17 Oct 2022
Simulate DNP3 networks in real-time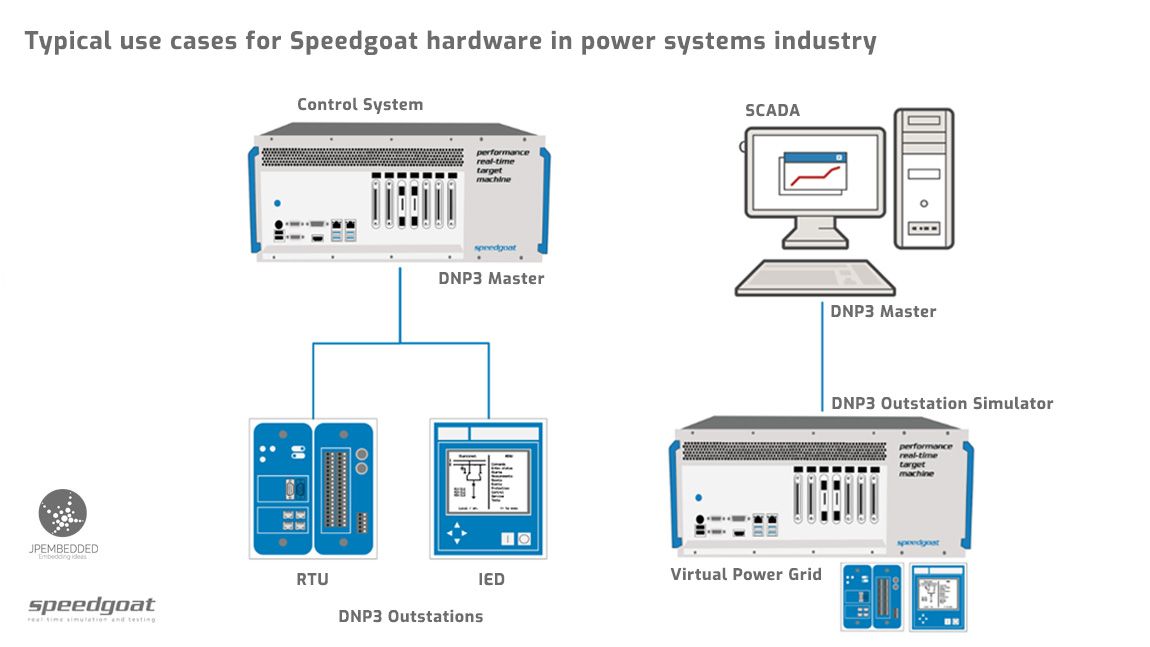 Validation and testing of a new solution in a real energy distribution network carry a risk. Looking for an alternative, more and more device manufacturers, and utilities, use real-time hardware-in-the-loop (HIL) environments. HIL-based solutions provide valuable, effective, and, above all, safe methods of testing and verification environment. Moreover, HIL environments are realistic, repeatable, and fully configurable by the user
With Speedgoat hardware user performs simulation models designed in Simulink. He can simulate the behavior of single electric devices, subsystems, or plants in order to test the function of a specific piece of software or major control systems.
Simulink blocks for DNP3 Master and Outstation enable connection to devices on different levels of the grid, from the field level to the supervisory level. This allows testing of various applications such as power distribution, substation automation, or circuit breaking in the lab or on the desk.
In addition to DNP3, Speedgoat real-time target machines also support protocols like Modbus TCP and enable fast data exchange on the sensor level with Simulink-programmable FPGA modules.
"The capabilities of the DNP3 library and the thorough support by the JPEmbedded team enabled us to extend our portfolio of industrial communication interfaces by DNP3. This allows our customers from the power systems industry to benefit from simulation and real-time testing" says Alexander Beck, Embedded Software Engineer, Industrial Communication, Speedgoat GmbH.
If you would like to learn more about the DNP3 simulation offered by Speedgoat, please visit: www.speedgoat.com/products-services/communications-protocols/dnp3
If you are interested in enabling DNP3 communication in your Intelligent Electronic Device, please visit JPEmbedded's booth during ENLIT (Hall 12.1, Stand G156) or send an e-mail to sales@jpembedded.eu.