08 Nov 2023
Sensirion's gas meter modules receive EN 17526 evaluation certificate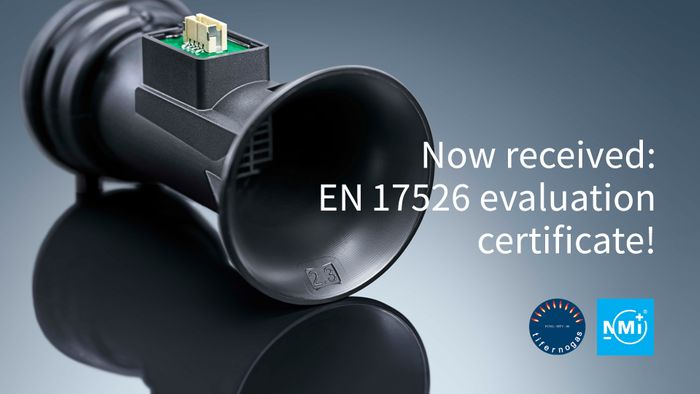 Both NMi and Tifernogas, two leading notified bodies in Europe for the testing and certification of measuring instruments with ISO 17025 approval,have certified Sensirion's sensor modules.
EN 17526 – advancing gas meter standards
EN 17526 is the first European standard for measuring thermal-mass flow, which was defined to certify new gas meters for use in the field. EN 17526 is also the first standard for static measurement principles to cover not only residential gas meters but also commercial and industrial meters (up to G100). Furthermore, in addition to natural gas types H, L, and E, the standard is the first to acknowledge renewable gases, such as hydrogen and biomethane.
As a harmonized standard, EN 17526 not only ensures continuity with existing regulations but also raises the bar for thermal-mass gas meters, introducing more rigorous testing requirements, including tests for flow oscillations and flow disturbances. This means that gas meters are now subjected to more stringent evaluations, ensuring their performance even under challenging conditions. The standard will also serve as a reference for the development of national gas metering standards worldwide – a process that is already well underway in several countries.
The EN 17526 evaluation certificate simplifies and accelerates the process of obtaining MID certification for gas meter manufacturers that use Sensirion's gas meter modules as a metrological unit. As a result, it reduces risks, saves time and cuts costs for gas meter manufacturers.
8 million gas meters with Sensirion's sensors
The introduction of EN 17526 highlights the maturity of thermal-mass measurement technology for gas meters. It is the market-leading solution in terms of accuracy, reliability, safety, cost-effectiveness and versatility toward different gas mixtures. It optimizes the management of the gas network and increases end-user satisfaction. Meanwhile, more than 8 million such gas meters have been successfully installed and used over the past 15 years. Sensirion's gas meter modules are available for sizes up to G25. Their compact size, low power consumption and digital I2C communication interface allow for easy integration into gas meters. Furthermore, the thermal-mass gas meter modules are both temperature- and pressure-compensated and fully calibrated for natural gas and renewable gases.
Lead the energy transition with Sensirion's solutions for a multi-gas future. Learn more about Sensirion's gas meter modules by visiting us at ENLIT Europe in Paris from November 28, 2023, to November 30, 2023 (Hall 7.2, Booth H33) or visit our website: www.sensirion.com/thermal-mass.