02 Nov 2022
Protergia and emsys VPP officially inaugurate first Virtual Power Plant in Greece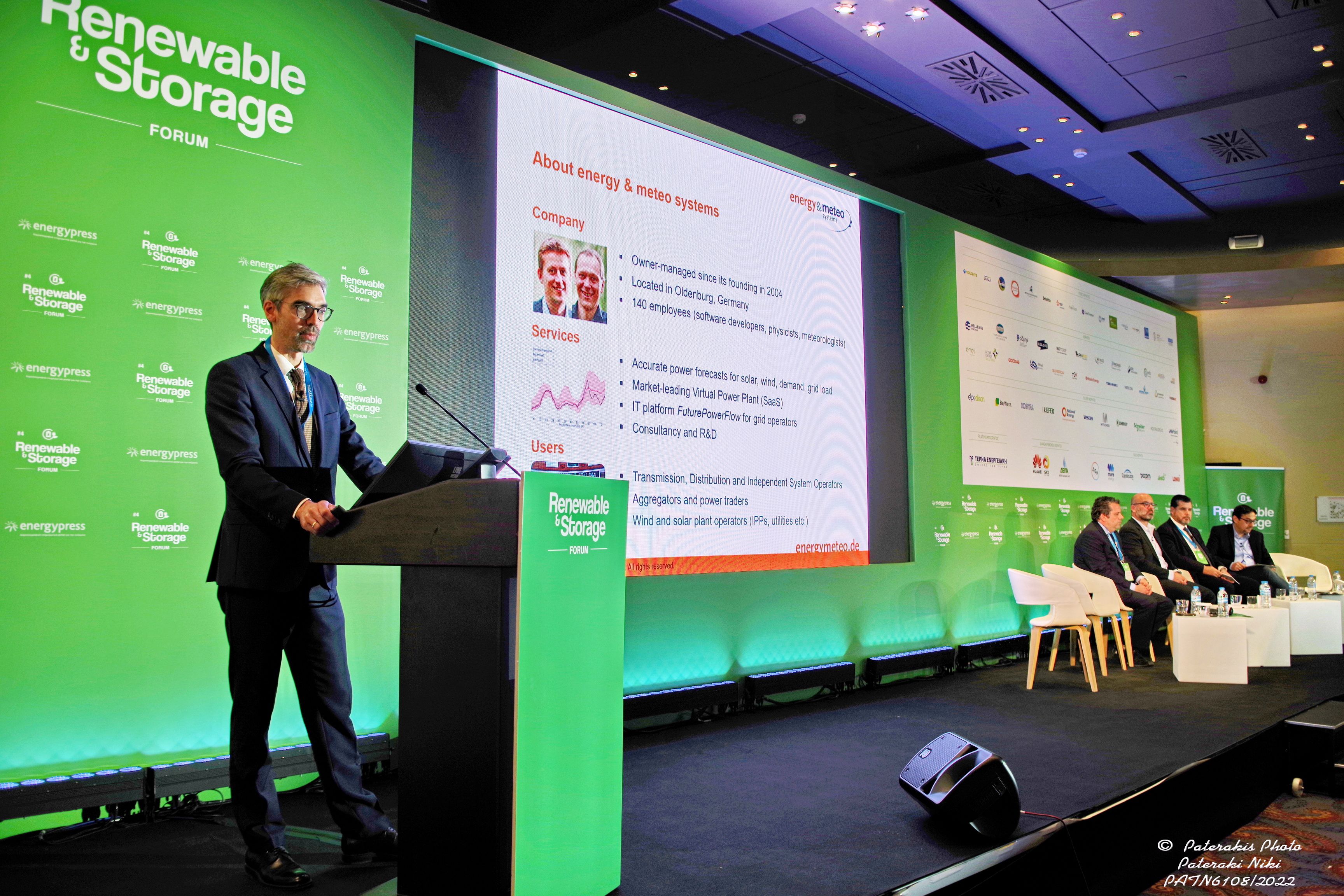 Oldenburg/Athens, 2 November 2022 – On 21st of October Protergia, the power and gas unit of stock- listed MYTILINEOS S.A. and emsys VPP officially inaugurated at the Renewables & Storage Forum in Athens the first Virtual Power Plant in the Greek energy market.
Protergia had contracted the German IT service provider to provide its Virtual Power Plant software combined with solar and wind power forecasts for its aggregator unit. In close collaboration with Protergia, emsys VPP customized and implemented the Virtual Power Plant, including plant connection and integration of solar and wind power forecasts provided by emsys VPP ́s partner company energy & meteo systems. Equipped with this complete Software-as-a-Service solution for aggregators, Protergia has digitally connected its portfolio of own and third parties ́ solar and wind power plants to monitor, forecast, remote-control and trade their variable electricity production in real-time. emsys VPP continues to provide support during the operation of the Virtual Power Plant, including the flexible connection of further assets.
The need for Virtual Power Plant and power forecasting services is driven by the Greek electricity market reform. Greece is set to introduce a continuous intraday wholesale electricity market by the end of 2022. From then on renewable energy plants have full balancing responsibility, facing significant costs in case of deviations between forecasts and actual production. In addition, renewable energy plants will have the opportunity to actively participate in the balancing market as balancing service providers on their own or via a renewable energy aggregator, a fact which, with proper management, will revitalize existing revenue streams. With a proven track record in serving leading European aggregators, emsys VPP ́s Virtual Power Plant reliably supports Protergia in successfully trading its portfolio in the new Greek electricity market.
"Renewable energies are on the rise in Greece and Protergia is a leading market player. We are glad to count with this sophisticated IT solution to market our own portfolio and to offer aggregator services to operators of renewable energy plants" says Christos Nakos, Head of Renewable Energy Asset Management of MYTILINEOS/ Protergia.
"In these times, renewables matter more than ever" says Dr. Matthias Lange, Managing Director of emsys VPP and energy & meteo systems. "Together with Protergia and other partners, we are ensuring an efficient integration of climate-friendly wind and solar energy into the Greek electricity market."
This project is supported by the German Federal Ministry for Economic Affairs and Climate Action as part of the Renewable Energy Solutions Programme of the German Energy Solutions Initiative.