24 Oct 2022
Multi-Sensor Feedthrough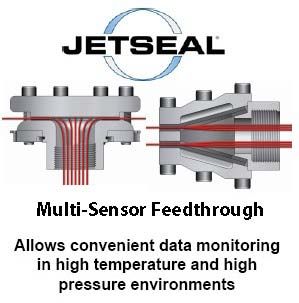 Monitor and test as many as 168 sensor wires or tubes, of multiple diameters. JETSEAL's patented Multi-Sensor Feedthrough assembly quickly and easily passes multiple sensor wires, thermocouples, pressure tubes, fiber optic cables, or electrical cables through a pressure vessel or test rig quickly and easily for a leak tight fit. Eliminate long cure times of cement or epoxies, or having to stuff packing materials or thread wire through individual holes in multiple components.
Installation is simple using either the Standard or Wedge Multi-Sensor Feedthrough assembly; fasten the unit to a pressure vessel with a standard NPT threaded connection (other connection types are available), feed the wires or tubes through the unit without removing cables or instrumentation end fittings, install the seals and top cover, and torque the Grade-8 bolts (to the specified requirements) supplied with the unit to seat the seals around the test instrumentation.
Choose between the Standard version or Wedge option that allows critical sensing wires or tubes to pass through the unit without bending. JETSEAL's Multi-Sensor Feedthrough assembly is ASME Boiler & Pressure Vessel Code rated to 850°F (454°C) and 500 psi.
The Multi-Sensor Feedthrough:
Requires no time-consuming threading of sensor wires or tubes through individual holes.
Superior design ensures a low leak rate with each use.
Accepts thermocouples with connectors.
Eliminates the need for hole plugs in unused ports.
Prevents crushing to failure sensor wires, pressure tubes, or thermocouples.
Allows easy adaptation to pressure vessel openings with a range of standard NPT connections.
Alternate connection styles are available.
Accommodates customization for different connection methods and changes in the number of wires or tubes.
Permits quick replacement of broken sensor wires or tubes without disturbing other wires.
Features nickel plating to resist corrosion in extreme environments up to 850°F (454°C) and 500 psi.
Contains no sharp edges to damage sensor wires or tubes.
Designed to use with ASME Boiler and Pressure Vessel code rated test chambers.
Compatible with solid metal jacketed sensor wire or tubing.
Not for use with braided steel jacketed sensors.
Please call for pricing and availability or fill out the Application Data Sheet (PDF) and Quote Request Form.
Telephone: (800) 644.5660
Local Number: (509) 467.9133
Email: rmyracle@jetseal.com