26 Sep 2022
Multi Protocol Gateway for Energy, IoT and Industrial Applications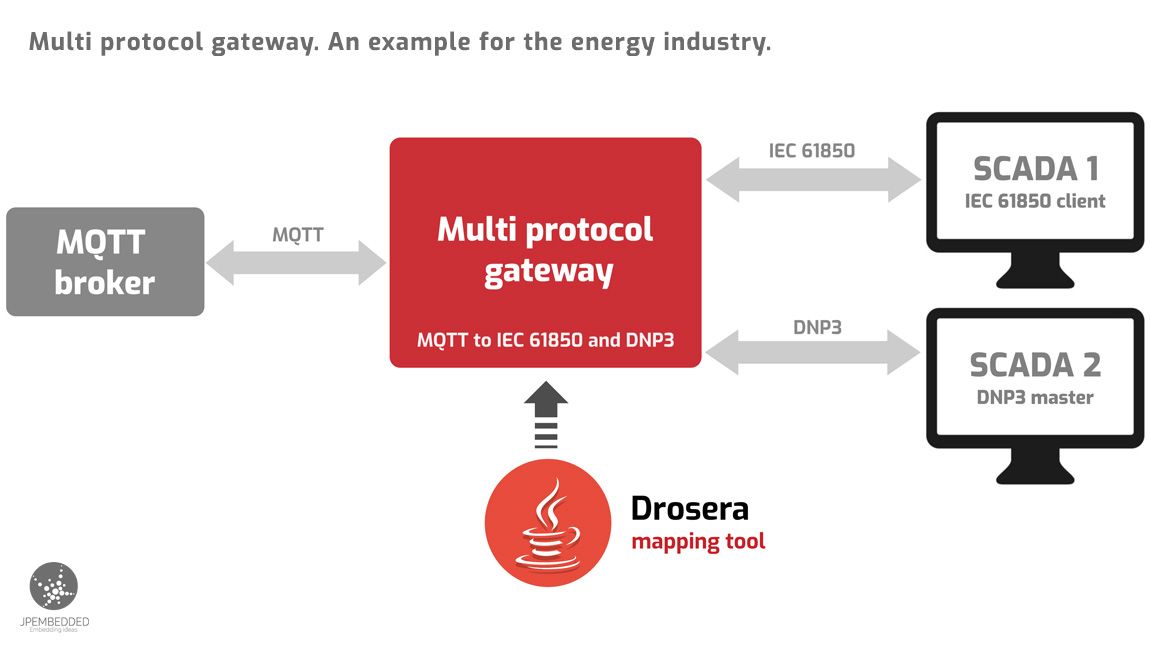 With the multitude of different communication standards and protocols being used by the power system, integration of new devices might be a challenge. Due to the economic reasons, it doesn't make sense to implement support for many protocols on single intelligent electronic device (IED), because it increases the requirements for resources (e.g. memory) and thus the end price of the product.
With legacy IEDs update of the firmware might not be an option at all.
The solution could be to use protocol converter aka gateway, to translate between whatever protocol is supported by the IED and the rest of the system. What if such device must be deployed in two different systems, one communicating with IEC61850 and the other one operating DNP3 (these are two close competitors in the power system communications). Using gateways offered by JPEmbedded you can communicate the same IED talking Modbus with both subsystems. What's more, user can simultaneously connect the same physical IED, to IEC61850 client, DNP3 master, or MQTT broker, as shown on the picture below
Let's imagine that some sensor is providing weather related information by means of MQTT topics. This information might be needed by the EMS controlling renewable energy sources with IEC61850 and separate SCADA system using DNP3. In order to integrate such product (sensor) into both systems, all you have to do is put multi-protocol gateway in the middle and configure the mapping:
MQTT - IEC61850
MQTT - DNP3
Basically, the user can map between any subset of protocols supported by the gateway (61850, 60870-5-10x, DNP3, Modbus, MQTT). Configuration of the device and mapping between the protocols can be done using our GUI application - Drosera. It allows to intuitively define how to translate data provided by each protocol, e.g.:
- Modbus registers
- IEC61850 data model
- DNP3 groups,
- MQTT topics.
All in all you can think of it as a Swiss army knife of grid communication made by the Polish company.