15 Nov 2023
Making the Intelligent Power Grid Happen with Barbara Edge AI Platform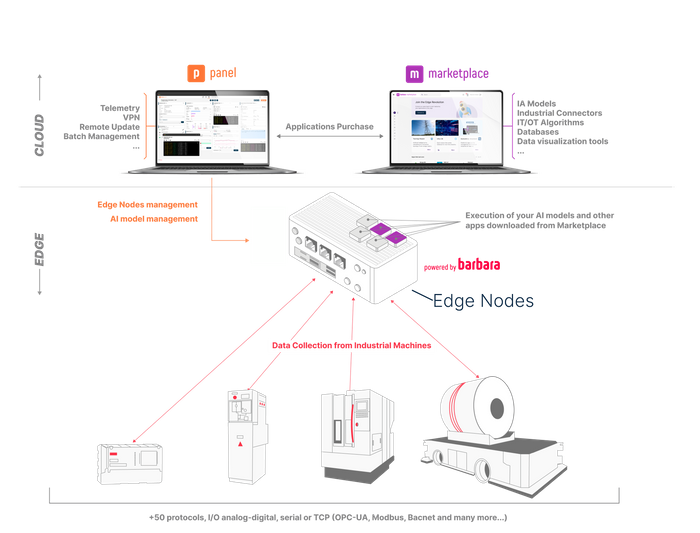 We are back at ENLIT Europe 2023, to showcase how Transmission and Distribution (T&D) operators can improve their operations by virtualizing HV and MLV substations and add intelligence to their assets.
The current deployment of substation assets, i.e. IEDs are no longer able to respond to the requirements of a flexible grid. The reason why is that their functions or uses are inseparable from the electronic equipment and operators find themselves constrained when they want to implement new functions or make any changes.
How can power grid stakeholders freely adapt to the new requirements in a short time scale? The answer is by virtualizing the functionalities of IEDs.
Functionalities need to be in a software plane so that they can be deployed and changed, at will. Once assets are virtualized, intelligence can be added to the equipment.
Scaling AI in thousands of distributed locations with Barbara Edge AI Platform
Edge AI, the combination of Edge Computing and AI, allows T&D operators to enjoy the advantages of the Cloud directly within the substations and within their control.
Barbara´s expertise lies in deploying and running real-time AI models securely. With the Barbara Edge AI platform, organizations can simplify and accelerate their Edge App deployments, building, orchestrating and maintaining container-based or native applications across thousands of distributed edge nodes.
"At Barbara, we think that the Smart Grid cannot be solely managed from centralised platforms. Data privacy, process autonomy, low-latency response times, enhanced cybersecurity and minimal data traffic are all reasons for a more highly distributed and independent IT infrastructure for AI deployment." – Peter Rawlins VP of Business Development at Barbara.
About Barbara
Barbara helps grid operators deploy and maintain algorithms in real-time while complying with the highest cybersecurity standard (standard IEC-62443-4-2 security level 1.
Thanks to Barbara, companies can integrate both legacy and next-generation industrial equipment data, deploy their own or third-party intelligence through our Marketplace, and streamline their management at scale on a single platform from anywhere.
Press contact.
Miren Zabaleta - mzabaleta@barbara.tech