30 Nov 2023
ISS2150 MCC Industrial Firewall for OT applications.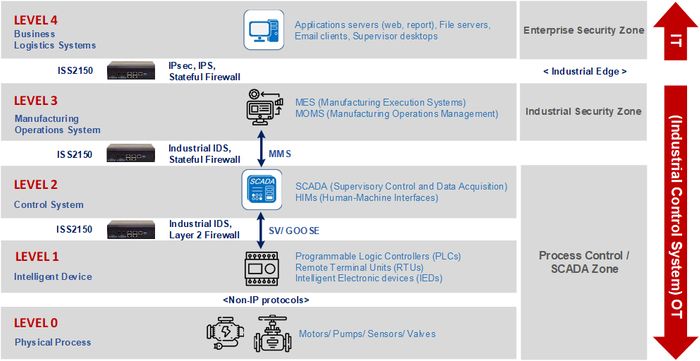 Loop Telecom is a Taiwanese manufacturer of Mission Critical Communication (MCC) solutions for Power Utilities, Transportation, Military, and Industries. Loop Telecom's portfolio includes Multiservice Access, Packet Transport Network MPLS/CE/IP and Synchronous Transport SDH/SONET, Switches, TDMoE and Information Security Solutions (ISS). In which, ISS is the one we have developed for the Industry and Enterprise operations since few years ago. Today we are launching the ISS2150, a MCC Industrial Firewall for OT applications.
Because of the OT/IT convergence, with migration of the Legacy communications (asynchronous, serial, proprietary interfaces and protocols, TDM and so on) that are used by old SCADA, PLC, measuring system and others toward standard Ethernet or IP Networks (as IEC61850 substation…), OT applications falls in the unsecured IT environment. Modern network involved with Ethernet/IP equipment requires strategies to provide technical solutions to resolve emergent cyberattacks and cybersecurity related activities.
The easy way to implement the cybersecurity inside the OT environment is to protect the communication between different layers of industrial equipment: the machinery, RTUs, control process systems, manufacturing operation systems, NMS, and the open zone of operator GUI. The ISS2150 is aimed to manage the communication protocols between these levels by verifying the OT protocols and thus secure these communications.
The ISS2150 is a fanless hardened machine with high availability, and automatic hardware failover. It works in -40°C to 70°C and is certified with IEC61850-3.
The ISS2150 is an all-in-one Firewall/NAT/VPN/Router/IPS device. This Stateful firewall monitors connection states and identifies potential traffic risks. It provides full NAT functions including Source NAT, Destination NAT, Static NAT, and Dynamic NAT for the deployment of Industrial Ethernet Devices. To secure the communication, the ISS2150 provides remote access tunnel with IPSec VPN.
To deploy and adapt the industrial infrastructure, the ISS2150 supports both static and dynamic routing and Industrial-grade Intrusion Prevention/Detection System (IPS/IDS) for the detection of industrial protocols with 275 predefined signatures. To secure the simple Ethernet devices, ISS2150 at sub-network gateway, supports SYN cookies to prevent Denial-of-Service (DoS) attacks. Quality of Service (QoS) management of traffic guarantees the performance of critical applications.
ISS2150 supports a variety of connectivity methods, such as Link Aggregation (LACP), Trunk 802.1q and Port Access Authentication (802.1x) to fulfill OT networking requirements. Also, ISS2150 features RESTful API to achieve system integration.
Please contact Loop Telecom for more information.