01 Oct 2023
IoT0510 Environnemental Security Monitoring solution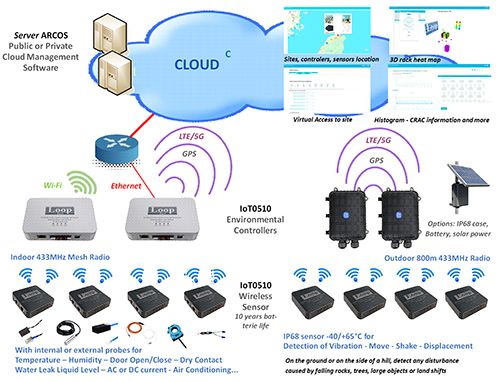 IoT0510 System - Environmental Security Monitoring from Cloud Server and Data Hub
The industrial IoT0510 system initially deployed in many Data Centers for Environmental and Power consumption surveillance applications, has been adapted for different industrial surveillance like:
Medium/Low Voltage Power Distribution (DSO) and City Tramways,
Highway lighting, Variable Message Panels, Light-post failure detection,
Roadway/Railways Landslide, earthquake, rockfall detection and automatic warning
This process of monitoring uses:
Multiple IoT0510 Indoor Wireless Sensors having inbuilt Temperature and Humidity Probes and external probes such as: Temperature and Humidity, Open Door Close, Contact closure, AC Current, Liquid leakage or Multiple IoT0510 Outdoor Wireless Sensors with tilt and vibration of soil detector or Landslide or Rockfall. IoT0510 Sensor transmits measurements/detections with NB-IoT Radio or LoRA-WAN at 50m indoor and 800m up to 30Km to redundant IoT0510 Controllers.
IoT0510 Controller supports 200 Radio Sensors and transmits optimized information to the Cloud over LTE/5G or Wi-Fi/Ethernet. With inbuilt Smoke/Air Quality/Air Flow Sensor, it supports more probes as: Anemometer….
IoT0510 Management software Suite is shared in Public or in Private Clouds, it compiles these data and provides instantaneous, statistic, location information with graphical representations. Operator receives real time alarms by email or SMS and access to IoT0510 Cloud over secured web connection.
IoT0510 Sensors are powered by a 10-year battery, Controller by 12v external solar and Lithium battery. Outdoor Sensors and Controllers versions built in IP68 enclosure works between -40 to 65°C.
This IoT Environmental Security Monitoring system in Data Centers survey temperature, humidity, liquid level, energy consumption per rack, open-door info with triggering alarms … and supports cameras to avoid unnecessary staff visits. With IoT0510 Suite cloud, the monitoring can be adapted to Environmental Security Survey for different industries, transportation, agriculture…
The Cloud IoT0510 Suite provides graphical screen of sites localization, virtual site access, 2D/3D Rack representation, dashboard, and histogram for representation of physical values as temperature, humidity, liquid level, energy consumption, open-door info but also to calculated values as CRAC Air-Conditioned…. with triggering alarms and more.
Loop Telecom sold also solely the IoT0510 Server as DATA HUB FOR REAL TIME PROCESS DATA. For Potential Industrial Application, IOT0510 Server provides Analytics/Simulation/Modelling with a large library of Dashboards for existing TSO/DSO Automated Infrastructures via Ethernet Data Collection points.

Environmental Security Monitoring System - IOT0510-IIoT-Products-Loop Telecom
https://www.looptelecom.com/en/product/IIoT/Environmental-Security-Monitoring-System---IOT0510