01 Oct 2023
G7800 MPLS-TP/CE/IP 400Gbps switch with PDH DACS and SDH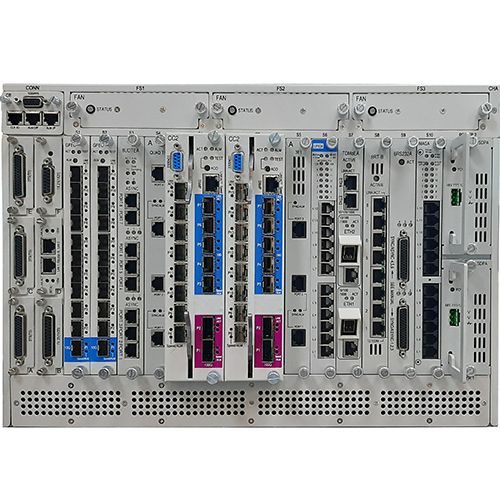 G7800 Platform 100GE MPLS-TP, CE, IP L3, SDH/SONET transmission and PDH Multiservice DACS
The G7800 is a 2023 released, powerful and evolutive Transmission and Access platform. This modular system with PTN 400Gbps switch supports 100GE/40GE/10GE/GE Packet Transport Network (PTN) with MPLS-TP, Carrier Ethernet, and L3 IP routing protocols. The G7800 has an integrated Access TDM/PDH multiservice with 128 E1 DS0/n x 64K cross-connect for low-rate, voice … and SDH/SONET access multiplexor. Then, this device is an OT Core system but also an Access Node providing the migration of old SDH networks.
The Loop Telecom G7800 is a Hybrid communication system for Mission Critical Communication (MCC) solutions. Such systems are deployed in Power Utilities, Transportation infrastructures like long-distance Railway, MRT/LRT, Air Traffic Control, Airport... and the Industries or Military infrastructures to combine transports of OT or IT high-rate IP/Ethernet together with Access and Transport of low-rate multi-services such as SCADA, voice/RTU communication (FXS, FXO, E&M, Serial RS…/V.., contact), low latency Ethernet, teleprotection…
This high secured product is fully modular with full redundant power, CPU, switch, cross-connect, interfaces. Today the G7800 is provided with CC2 400Gbps switch and support MPLS-TP, Carrier Ethernet L2.5 protocols and IP L3 routing over Ethernet port, VLAN or MPLS-TP LSP. It's applied all protections, QoS based on Traffic Engineering Engine and OAM-MPLS-P. Future switch card will provide over 1Tbps resources.
This redundant switch supports 2 x 100/40GE, up to 32 x 10GE, 70 x GE fiber, copper, and POE/+/++.
The G7800 management access supports a high level of security with IPSec VPN to NMS Firewall centre. Access is control by ACL, all non-secure protocols are blocked, and an Auto DoS prevent of attacks. It has the FIPS 140-3 Certification and is developer according to the IEC 62443-4-1 practice.
Today the G7800 encrypt MacSec switch to switch encryption of GE/10GE/40GE/100GE interfaces and during 2024 we will provide the A-to-Z LSP/Sec and IP/Sec.
MPLS-TP technology is replacing the SDH/SONET transport with full deterministic deployment, low latency, bi-directional circuits in same tunnel, protection with recovery time less than 50ms and it provides a direct transport of clock and phase synchronisation to remote node. This technology is more adapted to the OT infrastructure than the IP/MPLS.
A single iNMS system manages TDM/PDH access, SDH/SONET circuits and MPLS-TP/IP tunnels with end-to-end automatic commissioning including hybrid circuit, monitoring, and many intelligent operator assistances.