FLEXIBILITY SERVICES BASED ON CONNECTED AND INTEROPERABLE HYBRID ENERGY STORAGE SYSTEMS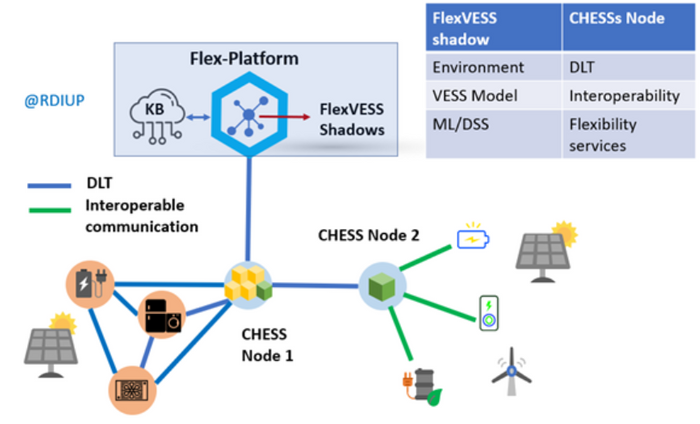 The rapid and large-scale deployment of various renewable energy systems impacts considerably the electric grid structure by moving from conventional generation to variable distributed energy production. This creates a new grid architecture characterised by a growing variability and uncertainties. Moreover, the growth in renewable's share of total energy, their intermittency together with the increasing electricity demand by not only but surely potentially also by the significant increase of electric vehicles are among the major origins of the increasing fluctuations in the whole load system and highly affects the supply quality of the electricity network. Therefore, several efforts have been made by key actors to mitigate the negative effects of such large-scale integration by allowing access to wider participants in energy activities and helping both existing and new market players to support network and system operation. To reach this goal, customers with small installations (e.g. batteries, HVAC, heat pumps, smart appliances, fuel cells, etc…) can be included by adapting their power flows in synergy with the network's needs to provide additional flexibility. The key challenge lies in developing new tools ensuring the effective aggregation and participation of these distributed installations.
The vision of FlexCHESS is to revolutionise the existing paradigms of energy storage by developing a multi-level flexibility approach based on Virtual Energy Storage System (VESS) that can store surplus energy through hybrid energy storage systems (HESS) and modify their behavior and architecture to support unpredictable growth and change of demand, climate and market. FlexCHESS will enhance the innovation storage capacity and competitiveness of the smart grids in Europe based on VESS-centric approaches to address uncertainties and weaknesses related to the extensive integration of variable renewable energies into the electricity market. This will be achieved by the appropriate promotion of open innovations and making the smart technologies an asset for an intelligent business.
The value of FlexCHESS is to guarantee a strict green VESS and minimise the energy curtailment. This will be reached by ensuring the transparency and traceability of stored energy in parallel with information sharing while protecting private data related to each actor. Also, we embrace creativity and innovation to deliver flexibility services and the best practical outcomes.
The mission of FlexCHESS is to provide an easy-to-use platform configurable through a simplified interface and make the aggregation of different ESS technologies from various brands easier and accessible to the largest number of users. To this end, the project will develop the FlexPlatform powered by a comprehensive digital twin engine enabling an effective decision-making and a successful integration of new assets into the VESS. Additionally, FlexCHESS project will shorten the path to the flexibility markets through its ready-to-use CHESS-Plug offering the highest level of interoperability between CHESS' components and FlexPlatform. The proposed approach will also allow the optimal representation and a multi-parametric modelling of the VESS portfolio in a modular and flexible manner. Each CHESS node will share valuable information to enhance and reinforce learning capabilities of the VESS and unlock access to meaningful information. The digital twin will complete this knowledge with virtual simulations to give back improvements and optimisations of scheduling and forecasting. Based on VESS operational data and the virtual twin experience, FlexCHESS will elaborate an open Knowledge Base (OKB) making the exploitation of results by SMEs and third parties simpler and more cost-effective.
In the context of the FlexCHESS project, consensus of involved users within a flexibility service will be carefully designed in order to establish a trustful environment that will also provide engagement incentives for both existing and new participants. Accordingly, the distributed ledger technology (DLT) will be deployed by rewarding contributors through smart contracts to improve flexibility trading and grid service provision, ensure traceability, accelerate the market uptake and reduce the number of intermediaries.